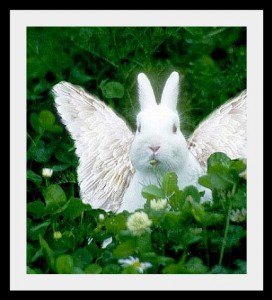 Three of my little friends decided to become angel bunnies yesterday. The odds of them staying in their little bodies were not good but I was determined to try to help them stay if they wanted to. It was probably harder on me to just let go and know that it is OK. It's hard for us to let any being go from their bodies and realize that it is really OK and what was meant to be.
I had a dream of one single bunny being released to the wild. When I had this dream I thought: 'but there are three that are doing well!?!' and I said to myself 'it's just a dream'.
Today I will fix a bigger enclosure for "Cuddles" as my daughter-in-law calls him. He's ready to learn to drink and has nibbled a bit of grass. He still likes his milk, as well he should, he's only about 2 weeks old!
I feel blessed to be given the chance, once again, to interact with baby rabbits and feel the energy that is uniquely theirs. It is truly a gift!