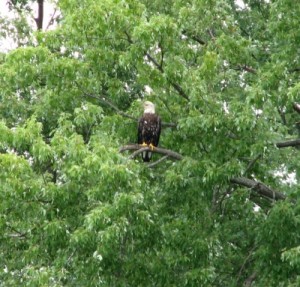 I went for a walk this week. It was my usual walk, down to a nearby lake. I usually walk up to one of the side ponds and turn around but that day I wanted to go further.
I understood why in a few seconds. I looked up and there was a beautiful bald eagle. He just sat there in the tree about 25 feet from me. I felt that familiar shiver run over my body and smiled at the sight of him. I continued to walk forward slowly and he shuffled back and forth on his perch. It was as if he was thinking, "she looks harmless enough but I really should fly". He finally looked back at me one more time and shuffled again and took off. Of course, that was a beautiful sight too!
There was a car behind me that I was unaware of. He pulled up to me and said "Did you see that?!" I said "yes". He said "they are so beautiful, a day with an eagle in it is a good day!" I agreed and he went on his way. I noticed he had a license plate that suggested he may be disabled. I decided to send some energy his way using qigong as he drove away.
I walked up to the next pond area and turned around. As I walked back to the same tree I noticed something I could not have seen on the other side of the tree. It was a young raven or large baby crow. It seemed a bit young to be on it's own. He was shiny and black and beautiful, but seemed a bit weak.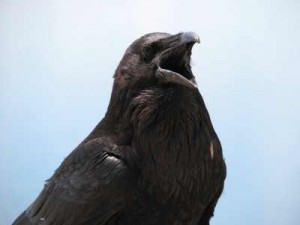 I sent a little loving energy to the bird. In my mind I heard a small voice giving me a message. I had received this message once before: "no more, no less".
The eagle is no more than the raven nor is the raven more than the eagle. It is our judgment that tries to make one creature or person or thing more important than another. Yes, they may carry different shapes and energy signatures and different messages, but essentially they are both wonderful and one is not better or more desirable than the other.
I smiled and felt that inner peace that comes when an important message is received from my heart. It's so true and it's so beautiful!
We can use this message to help us understand that everything is equal, no more, no less, all one. When we know this we feel better about ourselves and the whole world!
note: the pictures in this post are not that eagle and that raven on that day but they are pictures that I've taken in the past.